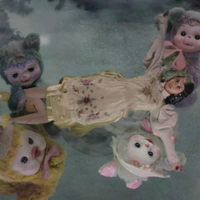 The Rushton Dolls are vintage toys that appeared in the Mad Hatter music video. Throughout the video, they can be seen helping Cry Baby navigate her dream by murdering her enemies. They melt two doll people that hinder Cry Baby's journey and later stab a doll family that attempts to eat her.
The Cat Rushton Doll and the Bunny Rushton Doll also appear in the Official Play Date Lyric Video. They appear to be pen pals and are in a relationship.
Trivia
According to Melanie, these dolls represent her true friends.[1]
In the Rolling Stone video "Melanie Martinez Goes Toy Shopping", Melanie mentions the Rushton "rubber face" dolls as being her favorite vintage toys.[2]

She also states something similar in the Pity Party behind the scenes video.[3]

All four of the Rushton dolls used in the Mad Hatter music video (the Duck, Cat, Bunny, and Bear) are replicas of real Rushton vintage dolls.
The Cat Rushton Doll and Duck Rushton Doll were likely inspired by two of Melanie's tattoos.
The Cat and Bunny appear in the Play Date lyric video.
They can also be seen on the cover of Cry Baby's Extra Clutter.
Gallery
References