Melanie Adele Martinez[1] is an American singer and songwriter.
She first auditioned for the American television vocal talent show The Voice and became a member of Team Adam, where her popularity rapidly grew within fans. Within the fifth week, she was eliminated which subsequently led to her beginning independent work on original material.
Early Life
Melanie was born in Astoria, Queens and raised in Baldwin, New York. At the age of 3, she realized that she enjoyed singing. She taught herself how to play guitar a year later as a four-year-old since her parents couldn't afford guitar lessons for her. She became a songwriter at 9 and a guitar player at age 14.
As a sophomore in high school, she won the Baldwin Senior High School's Talent Show. She began writing songs and releasing them onto YouTube, the oldest ones being Smoke, I Think I'm Crazy, and Birthing Addicts. She also covered many songs, such as The One That Got Away by Katy Perry, before joining The Voice.
Career
2012: Career Beginnings and The Voice
Melanie Martinez appeared on The Voice during season 3. She sang Toxic by Britney Spears for her Blind Audition, and turned three chairs: Adam Levine, CeeLo Green, and Blake Shelton. Melanie chose Adam Levine as her coach, and then moved on to the battle rounds. She competed against Caitlin Michele with the song Lights by Ellie Goulding. Adam chose Melanie, who moved on to the knockout rounds.
During the knockout rounds, Melanie was paired with Sam James, and she chose to sing Bulletproof by La Roux. Again, Adam chose her, who moved on to the live rounds. She chose to sing Hit the Road Jack by Ray Charles for the first week of the live rounds. The public vote did not save her, but Adam picked her to keep on his team. She went on to the second week of the live rounds, where she sang Cough Syrup by Young The Giant. This time, the public vote did save her, so she moved on to week three with Seven Nation Army by The White Stripes. Seven Nation Army was in the top ten on iTunes, so Martinez got her iTunes votes multiplied by ten. Martinez got to move on to the fourth week of the live rounds, where her song was Too Close by Alex Clare. Again, the song moved into the top ten on iTunes, so she had her iTunes votes multiplied by ten. Melanie then moved into week 5, which is the top 6.
Starting in week 5, singers of The Voice have to sing two songs, one picked by them, and another picked by their coach. For those songs, Melanie picked Crazy by Gnarls Barkley and Adam picked The Show by Lenka for her. Neither of her songs appeared in the top ten on iTunes, resulting in Melanie being eliminated.
2014-15: Dollhouse and American Horror Story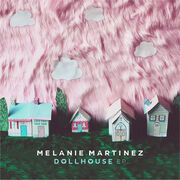 After being eliminated in the Top 6 on The Voice, Melanie began to work independently on original material. On April 7th, 2014, she announced that she signed on Atlantic Records and that she would go on tour. She released a new hit single titled Dollhouse on February 9th, 2014, along with a music video. The song was said to be about a family that looks perfect from the outside, but has many problems going on in the inside. Soon after, she released her debut extended play (EP) Dollhouse on May 19th, 2014 which included the singles Dollhouse and Carousel, which later received a music video in October of that year. Dead To Me and Bittersweet Tragedy were also featured on the EP. The EP is mostly about a relationship that doesn't work out, excluding Dollhouse.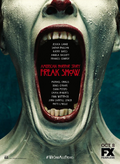 When the American Horror Story trailer was released, Melanie's song Carousel was featured in it. This helped Carousel become popular, and Melanie released a music video for it, which was released on October 15th, 2014.
2015-2016: Cry Baby
Melanie Martinez released her debut album, Cry Baby, on August 14th, 2015. It was made available to pre-order on July 24th.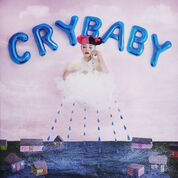 The lead single, Pity Party, was released on June 1st, 2015. The second single, Soap, was released on July 10th, 2015. The third single, Sippy Cup, was released on July 31st, 2015. Cry Baby was released on August 14th, 2015, to critical acclaim.[2][3][4] The album debuted at number 6 on the Billboard 200. She released a special Christmas single, titled Gingerbread Man on December 23rd, 2015. The music video of her song Cry Baby was released on March 14th, 2016. The fourth single, along with the music video, Alphabet Boy was released on June 2nd, 2016. Melanie said she planned on making music videos for every song on the standard edition of the album, all of which ended up being released by December 2017.
2016-Present: 2nd Studio Album and Movie
Melanie has finished working on a new album, which is set to be released by early 2019.[5] Two photos were posted on Instagram with lyrics on both captions, revealing two possible songs: one on April 13th, and one on May 17th. Several song titles have been registered via BMI Repertoire and Songfile as well.
It was confirmed in an exclusive interview that Melanie is currently working on a movie to go along with her second studio album. The film is set to be released at the same time as the album.[6] The movie will be a musical, and will be a mix of horror and drama. Melanie will be working on the hair, costumes, direction, and editing. It will be filmed in Europe throughout October. Not much else is known about it, as she wants to keep it a surprise.
Personal Life
Melanie's earliest memory was her third birthday, when her parents hired a "sketchy" Barney for her birthday party. However, due to how "sketchy" it was, she stated it was her "worst birthday party ever". She has been afraid of the dark ever since she was a child. Her hair is naturally brown, and she began experimenting with different colors when she was sixteen, after watching 101 Dalmatians and going off on her own despite not being allowed to.[7] Melanie only changes the color of the right side of her hair, always leaving the left side black. 
Melanie is very shy. She is known to smoke marijuana to calm her nerves before shows. She also stated that she drinks occasionally.[8]
On July 21st, 2018, Melanie came out as bisexual through her Instagram story.[9]
Relationships
Melanie has previously dated her drummer
Miles Nasta
,
Vinnie DiCarlo
,
Jared Dylan
, 
Edwin Zabala
, who portrayed the brother in
Dollhouse
, and
Michael Keenan
, who is going to produce Melanie's upcoming album. It is currently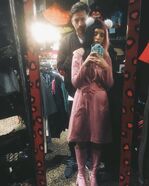 unknown whether she is dating someone else or if she is single. 
Tattoos
Main Article: Melanie Martinez/Tattoos
Hair Colors
Main Article: Melanie Martinez/Hair Colors
Controversies
Melanie has been accused of rape by her ex-friend Timothy Heller[10]. Melanie claims that Timothy "never said no to what we chose to do together" and says that her statements are false.

After Timothy accused Melanie of rape, one of Melanie's former friends Madeleine Carina also made a statement claiming that Melanie had pressured her into having sex.[11] The truthfulness of her accusation is unknown at the moment, as Melanie has never publicly addressed the tweet.
Gallery
Main Article: Melanie Martinez/Gallery
Videos
Main Article: Music Videos
Trivia
Melanie claims to be really good at doing hair and makeup but says she is terrible at nails.
Her shoes are never tied.
She says that she always needs some sort of chocolate after every meal.
She always loses her phone.
Melanie can shoot chocolate milk through the gap between her two front teeth.

She can also stick Swedish Fish in her gap.

When Melanie is alone, she blasts the music of Muddy Waters and makes up dances to every song.
She hates vegetables.
Melanie has really vivid dreams.
She stated that she'd stumble or trip at least eight times a day.
She isn't afraid of anything except for the dark and bees.
Melanie loves Play-Doh.
Her first word was 'mine' when her father snatched a Push Pop out of her hand.
Melanie claims she can't really cook.
She still has two baby teeth.
Melanie is of Puerto-Rican and Dominican descent, but does not know much of any Spanish.
She never performs with shoes on, and tends to wear lacy socks.
She collects toys from the fifties and sixties.
She doesn't own a pair of jeans or sweat-pants.
She often wears her 'Crybaby' necklace.
She eats at least five chocolate chip cookies a day.
Melanie said if she were not a singer / songwriter, she would like to be a tattoo artist, however, she has said that probably wouldn't work out because she's a klutz.
Her apartment looks like a baby nursery.
Her favorite visual artists are Mark Ryden and Nicoletta Ceccoli.
Her first celebrity crush was Dylan Sprouse.[12]
When asked what song she had wished she wrote, Melanie had an unexpected pick from a deep cut off of Marina and the Diamonds' album Electra Heart. She said, "I think Marina's a brilliant songwriter. There's this one song she has called Teen Idle, it's just perfect. The lyrics are perfect. The melodies are insane."[12]
She is obsessed with American Horror Story.

Her favorite character from the show is Dandy.

She has stitches on her chin and hand.
Melanie thinks that the video for Mrs. Potato Head was the hardest to film and write.
Melanie has at least 36 tattoos.

Her favorite tattoo is the one she got in honor of her deceased rabbit, Whinnie.

She previously owned a vine account, but she wasn't really active on it.
Her favorite holiday is Christmas.
She wants to collaborate with The Weeknd.[13]
Her dad, Jose Martinez, tours with her.
During the Dollhouse Tour, three items were stolen from her.
Melanie's height is 5'2".
Her zodiac sign is Taurus.
She is allergic to red apples.
Her lucky numbers are five and three.

The number 222 is also very special to her, as she has a tattoo of it on her right bicep.

She is obsessed with vintage Garbage Pail Kids cards, Animal Rummy cards, and Valentine's Day cards from the fifties.
When she was younger, her favorite show was Ren & Stimpy.
She has mentioned that she is a fan of the Netflix TV show Stranger Things.[14]

Her favorite character from the show is Eleven.

Her favorite book is Go Ask Alice.[14]
She loves amusement parks and roller coasters.
Melanie posted her astrology chart on Instagram.[15]
References