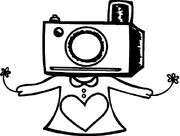 Little Body Big Heart Photography was a photography company run by Melanie Martinez. It was founded in 2009, however, the first photo was posted in October 3rd, 2010. Melanie posted the final photo on January 15th, 2013. She stopped doing photography to focus on her music career.
According to Melanie the idea of the company's name came from her friends, who said that she was a small person but she had a big heart.
All the photos can be found on her old Flickr account here.
Photo Shoot #1
Photo Shoot #2
Photo Shoot #3
Photo Shoot #4
Photo Shoot #5
Photo Shoot #6
Photo Shoot #7
Miscellaneous Photos
Photography
The Witches Brew