You are reading the page dedicated to the character created by Melanie Martinez. You may have been wanting to read about the song or album with the same names.
Spoiler Alert!

This page contains spoilers for a recently released project. Please proceed with caution.
Cry Baby, sometimes stylized as Crybaby, is a fantasy version of Melanie Martinez created for her debut album Cry Baby, also being the protagonist of the mentioned album and K-12. She is Melanie's alter-ego.
Cry Baby's story can be found through the album's songs, the official music videos, the storybook, the Cry Baby Tour, and other mediums Melanie has conveyed.
Family
Cry Baby's family includes her brother, mother, and father. Her father is involved in an affair, which causes her mother to become depressed, and hence an alcoholic. Her brother smokes cannabis. Her family pretends to be perfect when in the company of others, causing Cry Baby to feel fake and plastic. (Dollhouse).
Traits
Cry Baby is introduced as a sensitive young girl, living in a problematic household. As a result of her emotional nature, she was consistently mocked and made fun of. Much in her beginnings, Cry Baby was an insecure individual, who was prone to violent temper tantrums. As the album progresses, Cry Baby grows as an individual, gradually learning to overcome her struggles with confidence and learns what it means to be a happy person.

In K-12, Cry Baby was revealed to be an Empath guided by Lilith (a spirit guide). When her eyes turn black, it represents her being awakened to a higher level of consciousness. Being an Empath, Cry Baby can move objects from a distance, control people's minds, and shape shift. It is also shown that she can control water by extinguishing the fire coming out of Angelita's hand.

It's also hinted that Cry Baby is bisexual, because she thought the love letter she received from Ben was written by a girl and seemed mildly dissapointed when it wasn't.
Appearance
Cry Baby's iconic physical features in the storybook are her brown hair in two twin-drill pigtails with bows varying in color, her brown eyes and a gap between her two front teeth. Similarly to other characters, her clothing varies, although it is generally a dress with shoes and pastel yellow socks. In Live-Action videos, she has two toned hair, one side colored and one side black. The coloring and style varies between music videos and scenes,
In K-12, Cry Baby wears a modified version of the K-12 Sleepaway School uniform; the dress is purple instead of pink, and the sleeves are yellowish, puffy, and translucent with flowers embroidered on them. The heart patch on her chest reads "K-12". She also wears a Victorian-style dress in the school play, as well as a swimsuit and a dress with a cake skirt later on. The colored side of her hair mostly stays as blonde, but changes occasionally to coral, lavender, and orange.
Life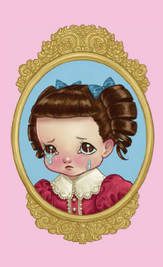 Directly after Cry Baby's birth, she was brought to her mother, who claimed that she was "a crybaby." Her brother writes "Crybaby" on her birth certificate, giving her the unusual name. (
Cry Baby
). 
Cry Baby's mother catches her husband bringing another woman home. She ties both of them up and stabs them to death, presumably under the influence of alcohol. After Cry Baby discovers her father and his mistress' bodies, her mother drugs her to make her forget what she saw. (Sippy Cup).
Cry Baby later enters a relationship with a boy that she meets at a carnival (later referred to as Alphabet Boy). This relationship is one-sided and constantly causes Cry Baby to feel like she will never "catch up to love." (Carousel).
Cry Baby soon realizes that this relationship is toxic and breaks up with him. She also proves that she is just as smart as he is when he attempts to put himself above her. (Alphabet Boy).
Cry Baby later meets another boy but is incredibly nervous about interacting with him. She says many embarrassing things, as hinted in the lines, "Uh-oh, there it goes, I said too much, it overflowed/Why do I always spill?" (Soap).
Cry Baby decided to take off the boy Johnny's "training wheels" and take him to the next level, although Melanie never confirms if this is sexual or emotional. (Training Wheels).
Cry Baby throws a birthday party, to which no one, including Johnny, arrives. This causes her to completely destroy her house in an insane rampage. (Pity Party).
Cry Baby, now single once again, becomes vulnerable. She goes shopping and an ice cream truck appears outside of the store. The cashier seems to recognize this and hands Cry Baby a bottle of poison as she leaves. Cry Baby stops by the ice cream truck, which is run by a wolf. This is most likely a metaphor for disguised predators. The wolf drugs her ice cream and drives off with her. (Tag, You're It).
The wolf orders Cry Baby to make him milk and cookies at his lair. Now evidently insane, Cry Baby uses the poison handed to her by the cashier and poisons the cookies. (Milk and Cookies).
After escaping, Cry Baby meets a boy named Blue Boy, who is in a relationship with Basic Bitch, in which he is evidently unhappy. Cry Baby is desperate to free the boy from the relationship after she "falls in love" with him (even though she merely wanted to win him over for fun) but in the end, she is unsuccessful after the Basic Bitch wins him over with her breasts. (Pacify Her).
Now aware that attractive bodies have a great effect on boys, Cry Baby begins to grow self-conscious. She believes her hair needs to be a different color, she has to be thinner, and she has to have bigger breasts in order to be loved. However, after seeing Mrs. Potato Head on the TV screen and the consequences of changing yourself for other people, Cry Baby realizes that she is perfect the way she is and there is nothing that she needs to change. (Mrs. Potato Head).
Ultimately, she learns what it means to love oneself, to have self-respect, and to have self-worth. She also learns that everybody goes a bit mad sometimes, and that's perfectly okay. (Mad Hatter).
After all the events in her life go by, Cry Baby is sent to Boarding School at K-12 Sleepaway School along with her best friend, Angelita. She arrives there on a pink school bus, which drives off a cliff into the sea, which makes Angelita and Cry Baby make it fly into the sky and make it to K-12. She gets late to her class with Ms. Daphne, and Kelly gets angry at her for simply talking to Brandon. During recess, Kelly's friends notice Brandon sitting with Cry Baby and Angelita and notify Kelly, who in response, runs up behind Cry Baby and beats her up. Cry Baby uses her powers to levitate her and Kelly, then choking her with her braids, which ends up making her and Kelly to the principal's office. She is tortured by Ms. Penelope during her 3rd grade class by being turned into a puppet for show & tell to entertain the class due to Cry Baby's tardiness and after her preformance, she is thrown across the room and lands on the ground, her stomach breaking open and exposing her intestines. She is then wheeled outside the nurse's office where Angelita turns her back into a human. Then, the nurses force Cry Baby and Angelita to go to the nurse's office, where Lillith saves them from being controlled. She walks with Angelita through the hall where they find ghosts dancing in a room, before she has to go to Drama Club. She tries to leave but gets taken away by the school's guards and is forced to be in the school play. After being in the school play, Cry Baby tries to wake everyone up from their controlled state, the guards try taking her away, but she then manages to wake everyone up. Then they all run to The Principal's office, dismembering him. Later, she blows the school up in a bubble after K-12's 150th school dance, along with the help of Celeste, Fleur, Angelita, Magnolla, and Ben. She ends up disguising herself as Lorelai, a woman who wants to be hired as an assistant at the school. She then makes Leo fall in love with her and locks him in the closet. Cry Baby runs to the balcony and Ben follows her, revealing to her that he wrote the love letter and blows up the school in time with Ben (K-12)
Trivia
Cry Baby was created to show the younger, emotional side of Melanie.[1]
These songs were written out of Melanie's real-life experiences:

Cry Baby
Carousel
Alphabet Boy
Soap
Training Wheels
Pity Party
Mrs. Potato Head

These songs were fictionally written, or written out of experiences that Melanie did not personally go through:

Dollhouse
Sippy Cup
Tag, You're It
Milk and Cookies
Pacify Her
Mad Hatter

Cry Baby is also the main character of the deluxe songs Play Date, Teddy Bear, and Cake, as well as the single Gingerbread Man. However, these songs are not part of the album's narrative or Cry Baby's story. 
Chloe Tersigni drew the illustrations of Cry Baby in the storybook. She was a fan and friend of Melanie for a long time.
In the Pity Party music video, there are nine candles on the cake, hinting that Cry Baby is nine years old.

However, in the storybook, Pity Party's illustration depicts three candles, indicating Cry Baby is three years old.
Video
Gallery
References
Community content is available under
CC-BY-SA
unless otherwise noted.